Hot verkoop fabriek direct UV sterilisator
Voordelen van Ultraviolet Water Sterilisator
Gemeentelijke waterleveranciers voeren de nodige maatregelen uit om aan de kwaliteitsnormen van water te voldoen. Maar UV-zuiveringssystemen nemen waterzuivering naar een hoger niveau, waardoor een veilige oplossing wordt verkregen tegen chloorbestendige micro-organismen, zoals Giardia en Cryptosporidium, die jaarlijks duizenden gedocumenteerde gezondheidsgevallen veroorzaken.
Effectief - Vernietigt 99,99% van de micro-organismen
Chemisch vrij - geen schadelijke chemicaliën moeten worden toegevoegd
Milieuvriendelijk - ga groen! UV is een milieuvriendelijk alternatief voor chloor desinfectie en heeft geen desinfectie bijproducten
In principe probleemloos - eenmaal geïnstalleerd, jaarlijkse service is meestal alles wat nodig is
Betrouwbaar - werkt nacht en dag, 24 uur per dag, waardoor u water veilig blijft houden
Veilig - geen behandeling van chemicaliën
Kosteneffectief-alleen lamp en mouw vervangen jaarlijks
Schoon - geen vuile delen om te verwijderen
Snel Proces - water stroomt door het systeem zonder de tank of reactietijden te houden
Effer effectiever dan chloor- of chlooramines - vooral bij sommige watergedragen cysten
Lage energieverbruik - lage elektrische behoeften
FDA goedgekeurd - een van slechts 4 methoden die zijn goedgekeurd voor desinfectie door de Amerikaanse Food and Drug Administration (FDA)
Behoudt water - Het UV-zuiveringsproces verspilt geen water
Smaak en geur - Chemische desinfectiemethoden (zoals chloor) veranderen de smaak en geur van water en produceren bijproducten. UV niet.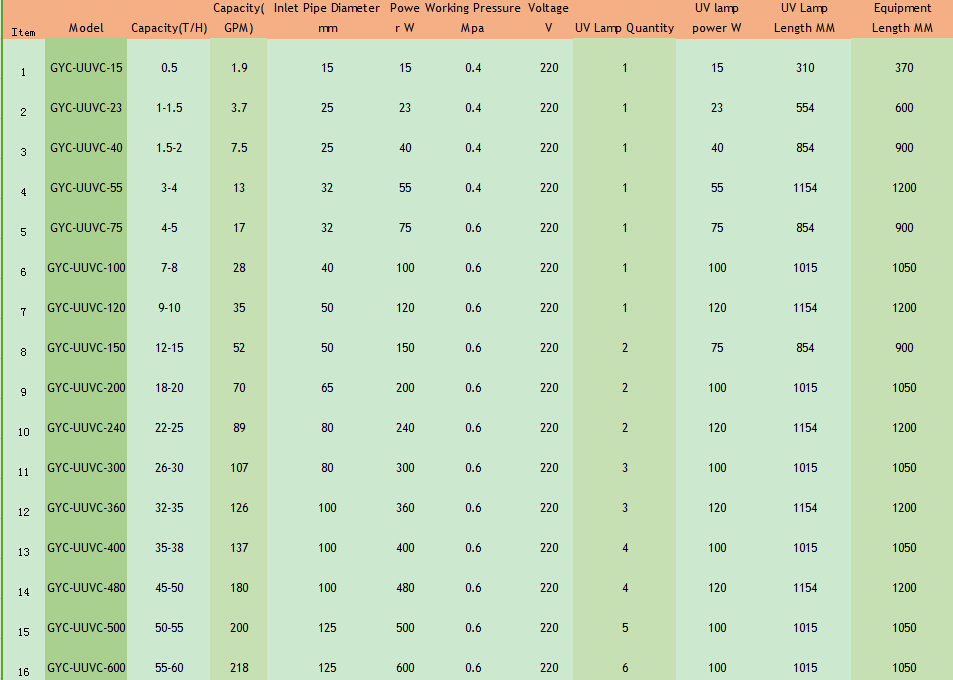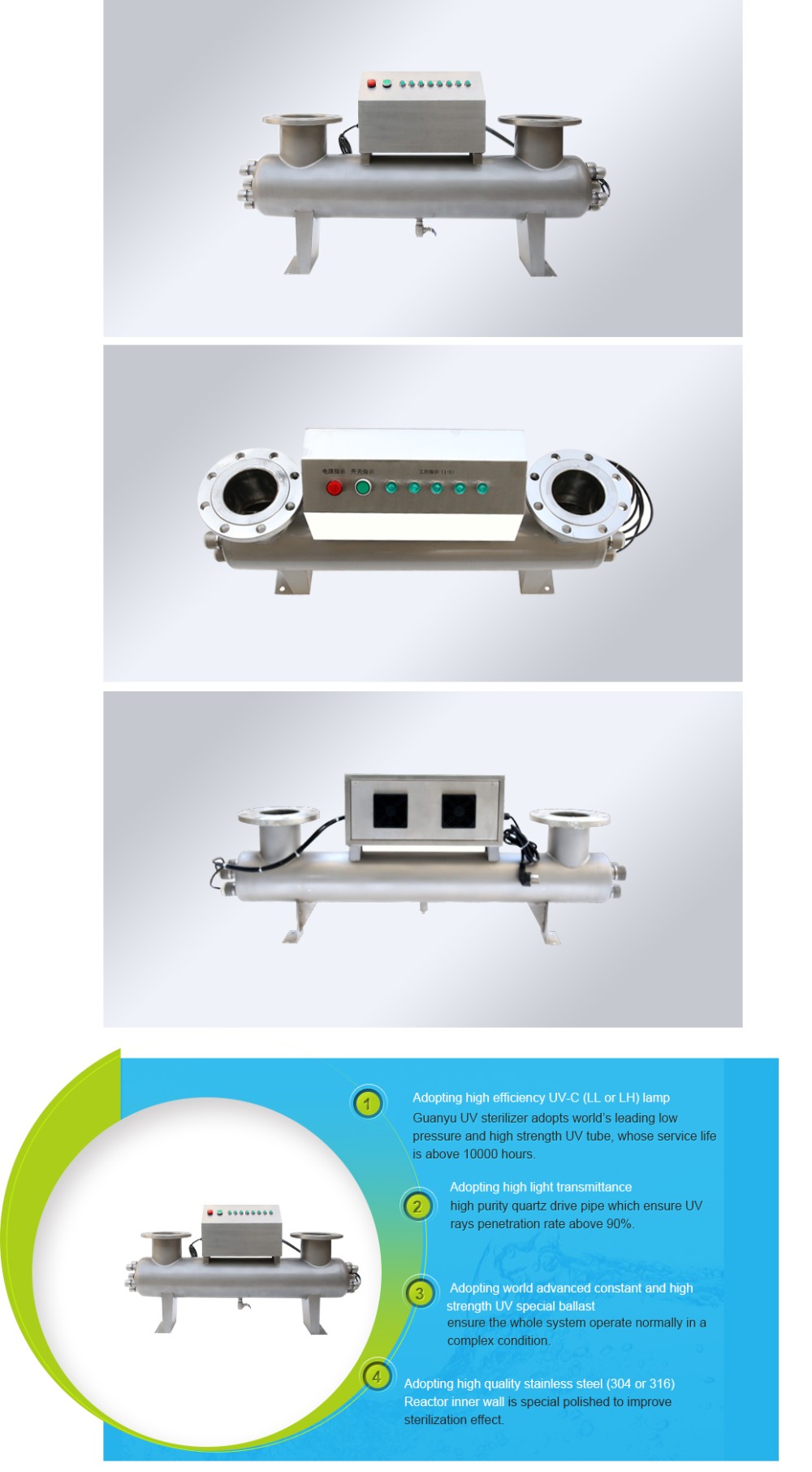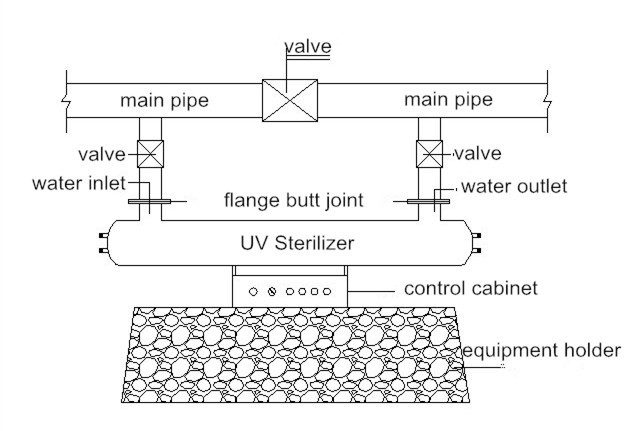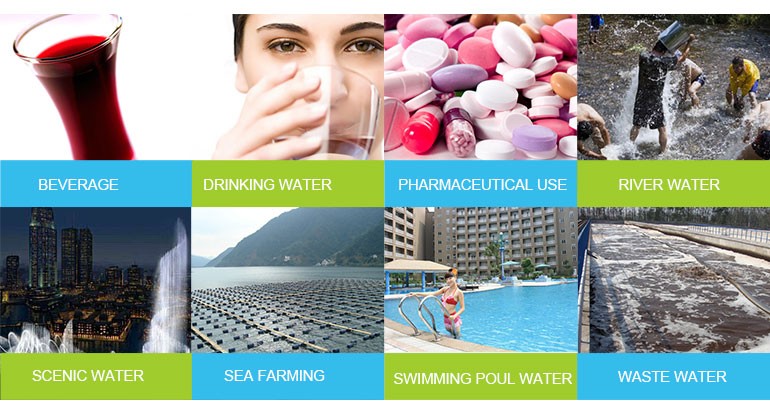 In vergelijking met andere desinfectievormen heeft UV sterilisator de volgende voordelen:
O Hoge efficiënte sterilisatie: doden normaal gesproken 99% -99,9% bacteriën binnen 1 tot 2 seconden.
O Breed spectrum: UV-stralen hebben het breedste spectrum, bijna alle bacteriën en virus vermoorden.
O Geen secundaire vervuiling: voeg geen chemisch middel toe, het veroorzaakt geen secundaire vervuiling voor water en omgeving, verander geen ingrediënten in water.
O Veilig en betrouwbaar om te werken: Traditionele desinfectietechnologie, zoals chloride en ozon, de desinfectiemiddelen zelf zijn zeer giftig en brandbaar. Terwijl UV sterilisator niet zo'n mogelijk veiligheidsgevaar heeft.
O Laag onderhoudskosten: UV sterilisator heeft een klein gebied (en heeft een eenvoudige structuurbehoefte, zodat kleinere totale investering en lagere bedrijfskosten gemakkelijk te bereiken zijn). Het kost slechts een half dan chloor desinfectie in kiloton waterbehandeling.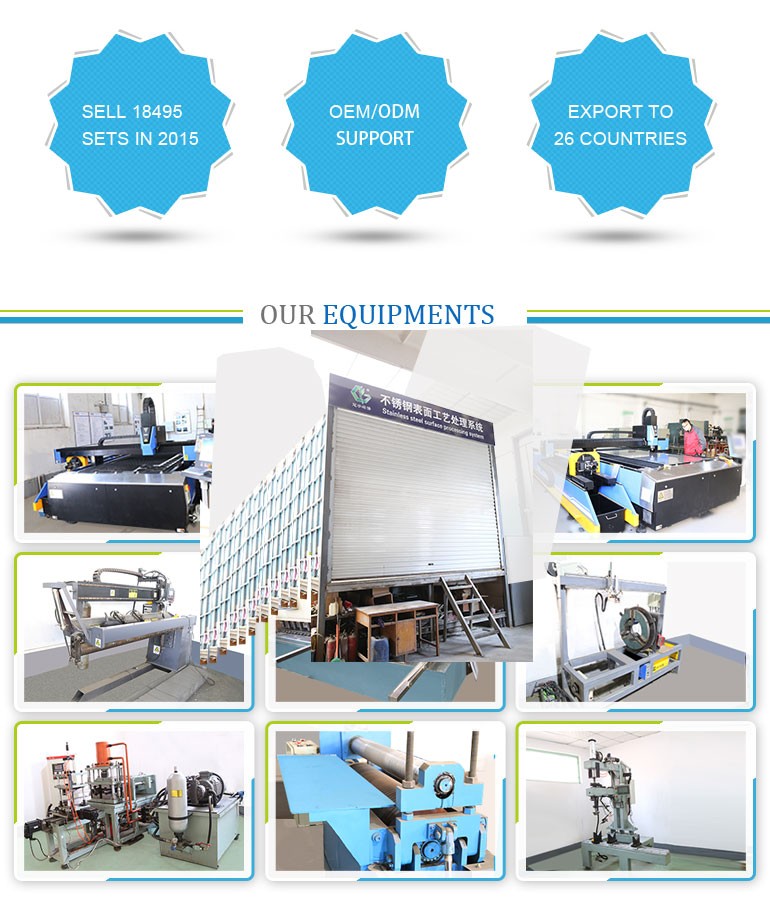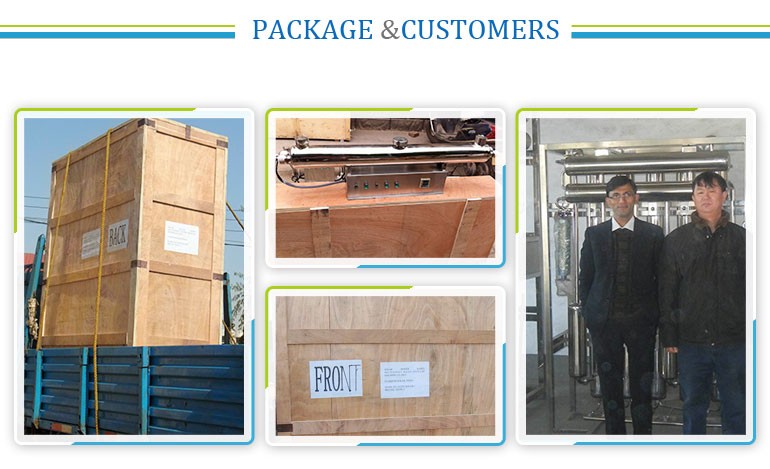 Product Categorie : UV sterilisator > Huishoudelijke Type UV Sterilisator